SUPPort the educationnal ship

la coque nomade fraternitÉ
The "La Fraternité-Coque Nomade" is a replica of an 18th century slave ship, the Aurore. Reconstructed in the form of containers, it can be disassembled and will therefore travel around France and abroad to make the general public and schools aware of slavery, past and present. An appeal for donations has been made to continue its construction, which started in 2018.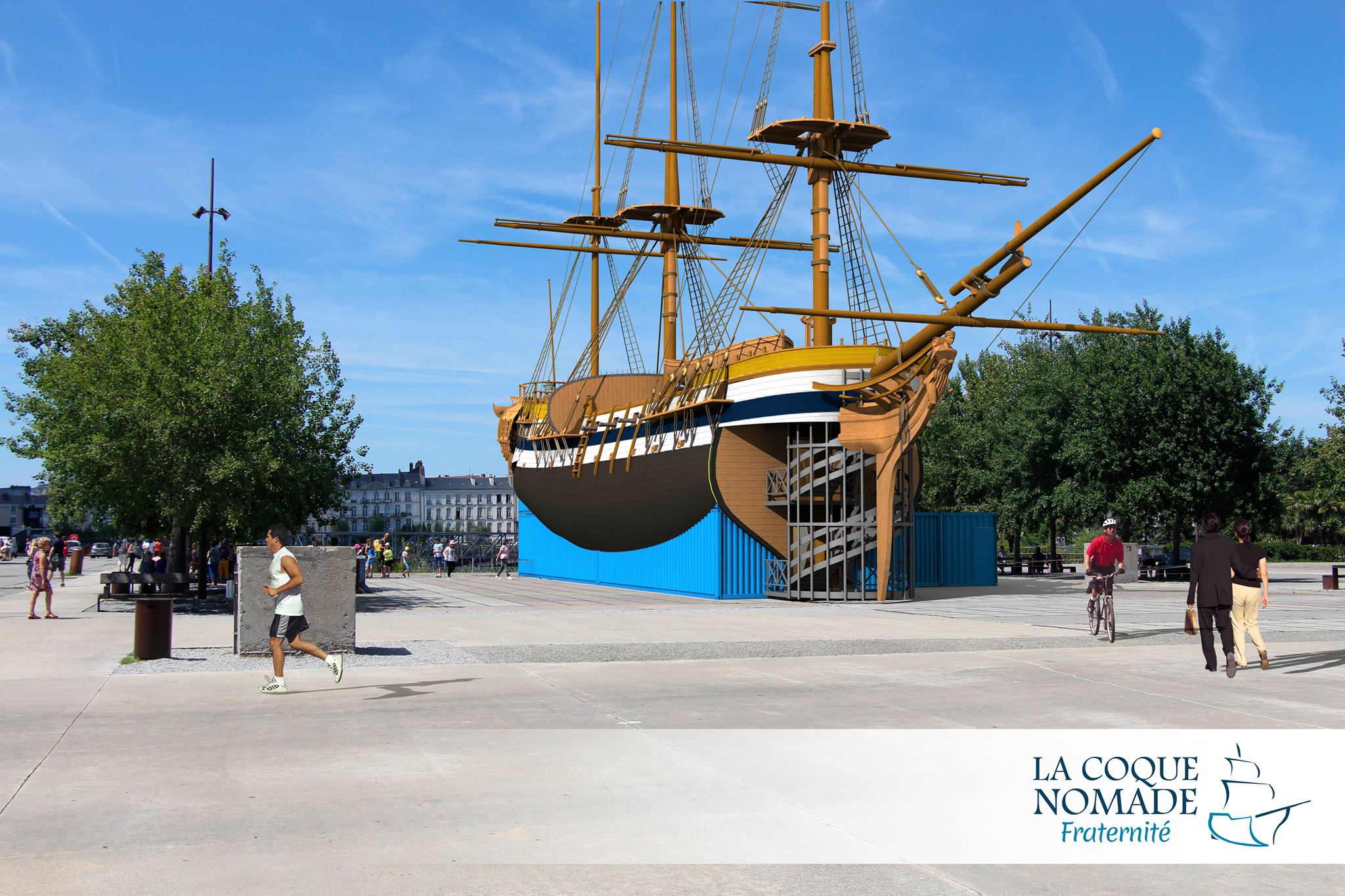 la coque nomade-fraternité
The "La Coque Nomade – Fraternité" association gives everyone the opportunity to do their job of remembering and mourning a history that no one can rewrite. This work must also, and above all, make it possible to educate future generations, who are faced with contemporary slavery and discrimination of all kinds.
The actions proposed aim to promote the diversity of generations and communities with the goal of improving social cohesion, taking action and mobilizing to fight against exclusion, forms of discrimination and racism.
 To promote the history of mixed cultures, for educational and pedagogical purposes

To raise public awareness on the history of the slave trade and
on historical andcontemporary slavery.

To promote social cohesion and fight against of exclusion, discrimination and racism.
Our association works at local, national and international levels. 
Awareness of the tragedy of slavery, like other tragedies that undermine human dignity, is a requirement that originates in the past but affects the present and influences the future. We are carrying out a particular action with schools to raise awareness among young people about the history of the city of Nantes and about the mechanism that gave birth to mixed cultures, thus promoting open-mindedness and tolerance.
The events are an opportunity to raise public awareness about other forms of art by allowing them to participate in them: discussion forums, conferences, symposiums, literary exchange exhibitions, shows, culinary arts, etc. The implementation of certain actions about subjects such as the feeling of exile, question of identity, racial mixing, slavery of the past and present takes place in the atmosphere of a mixedrace popular festival rich in colors with street events, themed catering and more. The musical program offers local, national and international artists, whether acoustic, digital or electric
sections.
Redécouvrir l'histoire de la traite négrière de Nantes à travers les récits de ses « héritiers ». Telle est l'intention de la…
Dans le cadre des Journées du patrimoine, les 16 et 17 septembre 2023, la Coque Nomade Fraternité organise une visite…
Vous pouvez télécharger ici le Rapport d'activités 2022 de l'association La Coque Nomade Fraternité.